Da Truth rappers, Young Slim and GBreeze, are on the show promoting their new single, "How Do It Taste." They're talking about their history and how they came together to ...
You remember her as "Sam" from Wishbone, but Michael remembers her as his first crush. Christie calls in to talk about the popular PBS show and what she is up ...
It's time for another round of Family Shade! This time, it's based on the hit Netflix show, 13 Reasons Why. How well do you do against Jaime, Bobby, and Michael? ...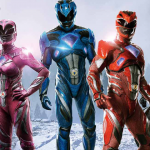 Eric accuses the newest Power Rangers movie of ripping off the theme song from, Stranger Things. The evidence is pretty compelling. See for yourself. Then later, Eric discusses his theory ...
Once again, Jaime the Tattoo guy is out and about at the Dallas Fan Days! After losing his son in the crowd, Jaime asks con goers who they think will ...